This case study was conducted with an out of date of Keyword Cupid.
For the most up to date information, please view our comprehensive
keyword research guide
.
When You Play The Game Of Slots,
You Win Or You Die
The gambling/casino niche is one of the most lucrative niches that exist.
The high payouts for both the casino platform itself and the affiliated sites make it a very enticing, and therefore competitive, industry.
The volume of sites that employ advanced advertising and SEO strategies makes it difficult for a new website to gain an edge in this niche.
For a new casino affiliate site owner, it is more important than ever to accurately organize their targeted keywords to stand a chance against its more established competitors.
For this particular example, we will examine an authority site in the casino niche which already ranks for tens of thousands of keywords organically on Google.
Unfortunately, we don't have permission to share the actual URL. Nevertheless, this shouldn't affect the results of our study.
Reconstruct Your Organic Rankings
Our Organic Rankings Report aims to analyze a website's organic keyword rankings and cluster them into silos automatically.
The webmaster can then derive insights on how further optimizing their site architecture.
This report pulled 2100 keywords and automatically clustered the results into proper silos using the search engine rankings from Google.
We use a proprietary algorithm to determine the most impactful keywords to target.

Our Smart Filtering Algorithm© concentrates on keywords for which a site has the most reliable rankings while also optimizing impression volume and keyword difficulty.
We also favor shorter keywords, as it can sometimes be challenging to target long-tail keywords with more than five words.
May The Odds Be Forever In Your Favor
when organizing keywords
The casino industry is overflowing with keywords because of the variety of games and casinos that exist.
Each casino offers different games, bonuses, sweepstakes, etc.
Our sample of 2100 pre-screened keywords is a small subset of the potential keywords that exist in the gambling industry, but it still proves challenging to organize.
In particular, there are several questions we need to answer before we are truly prepared to start attacking a vertical and writing content.

What casino games should I write about?

How do I mix and match keywords to avoid "SERP cannibalization"?

Should I create separate posts for "free bingo slots no deposit" and "bingo without deposit" or put them on the same page?

And of course the biggest question of all...

WHY choose Silo "bingo slot sites" over Silo "casino bingo slots"?


Keyword Matchmaking From The "Google Heavens"
Keyword Cupid is here to help you answer all of your questions with only one objective;
To help you rank in the eyes of Google.
Our hypothesis is simple...
If Google shows similar results for "Cassava Bingo" and "Dragonfish",
then "Cassava Bingo" and "Dragonfish" must be related.
- Keyword Cupid
That's it!
We don't care to answer why or how they are related, nor are we trying to reverse engineer the NLP algorithm that produced that association.
Our objective is to place on the same page/silo keywords that Google associates with each other.
This way, we can speak the same language as the Google NLP algorithm.

TLDR: We utilize state of the art machine learning models to cluster together keywords with the highest overlap in SERPs, using an exponentially weighted curve to give more importance to results from the first pages of Google.
Enough about that, let's jump to the results, shall we?
Bingo!
(both literally and figuratively)
Keyword Cupid's matchmaking process clusters together keywords that have the highest overlap in their search engine rankings.
For example, we automatically identified a prominent cluster revolving around "free bingo bonus no deposit".
We proceeded by creating further segmentations that will allow you to dissect your data even further.
In the following image, you can see the mindmap of the keywords about the bingo casino game with the intent to signup without a deposit.
We automatically aggregate the children's total impressions and difficulty in each parent node to provide a holistic metric on the importance of each cluster.
In particular, the parent level cluster contains keywords with a total impression volume of 15k impressions per month with a difficulty of about 15/100.

"free bingo bonus no deposit" cluster
In the following two images, you can see that these two keywords are placed together within a cluster because of the high overlap of results when searching them on Google.
These particular keywords are so related that they match in 8/10 SERPs of page 1 alone.
There are many more similarities in pages 2-4, which increase the strength of their relationship even more.
"free bingo no deposit" Top 10 SERPs
"free online bingo no deposit" Top 10 SERPs
Note that we show only the top 10 SERPs per keyword in the interactive graph for usability purposes.
Our algorithms use an exponentially weighted curve to take into account 50+ results for each keyword.
If two keywords belong in the same cluster and they don't happen to overlap on the first page, it's because they have commonalities in subsequent pages.

Finding A "Pocket" To "Win"
(pun intended!)
Another exciting cluster that emerges from our study has to do with Pocketwin casino.
The results are more ambiguous as there are several clusters with less than perfect Keyword Co-occurrence.
Nevertheless, it seems that our groupings are still thematically relevant, and we can use them to craft better content that addresses our audience's intent.
In particular, it seems that there is a clear intent concerning logging into the casino, withdrawing money from it, getting updates on new games, in addition to verifying its legitimacy.
The "poketwin" cluster is unusual because it shows that the misspelling of the brand is highly related (the cluster has Keyword Co-occurrence level of 100) to other misspellings like "pocketwin opinie".
Maybe it's worth creating a blog post for people who can't spell? (jk)
"pocketwin casino login" cluster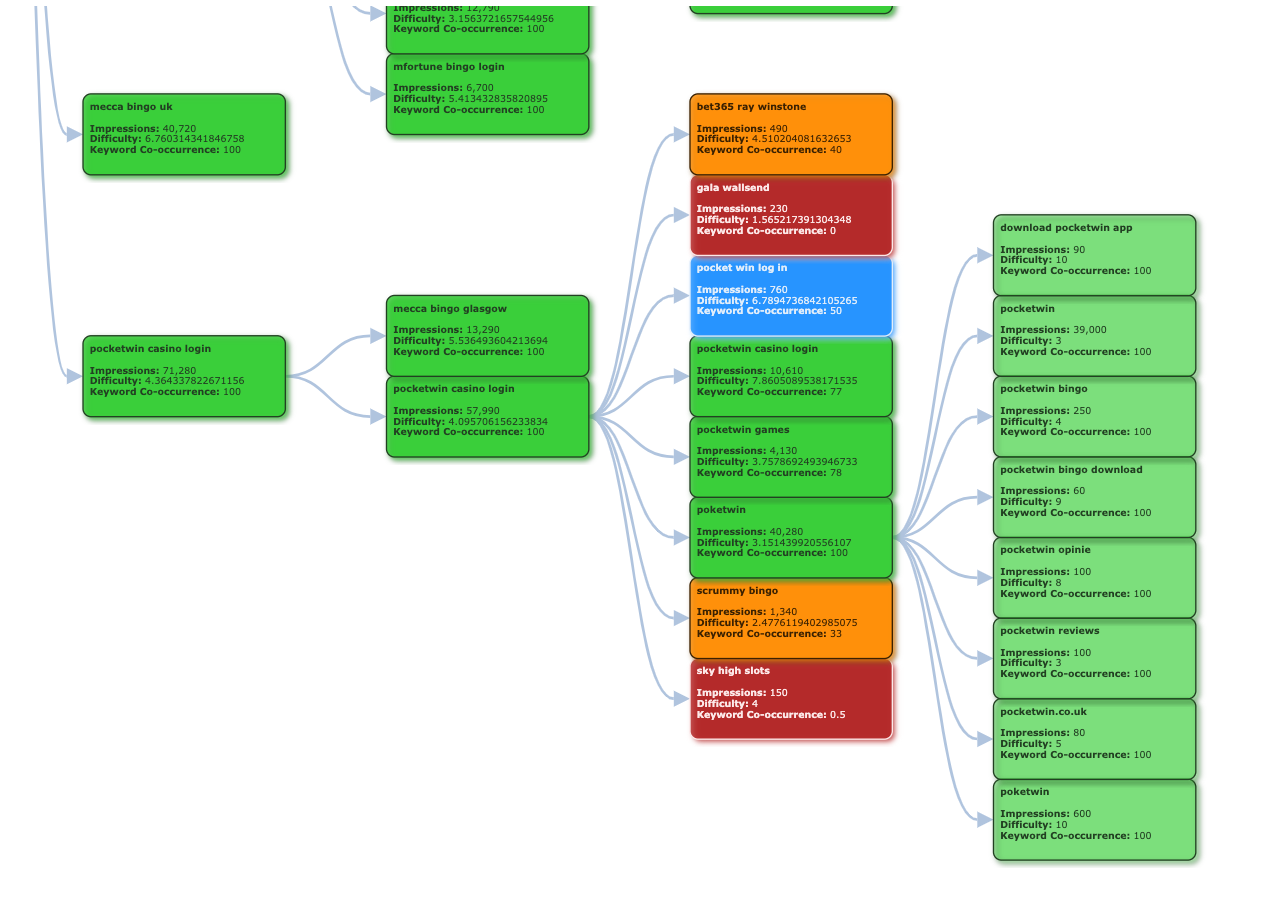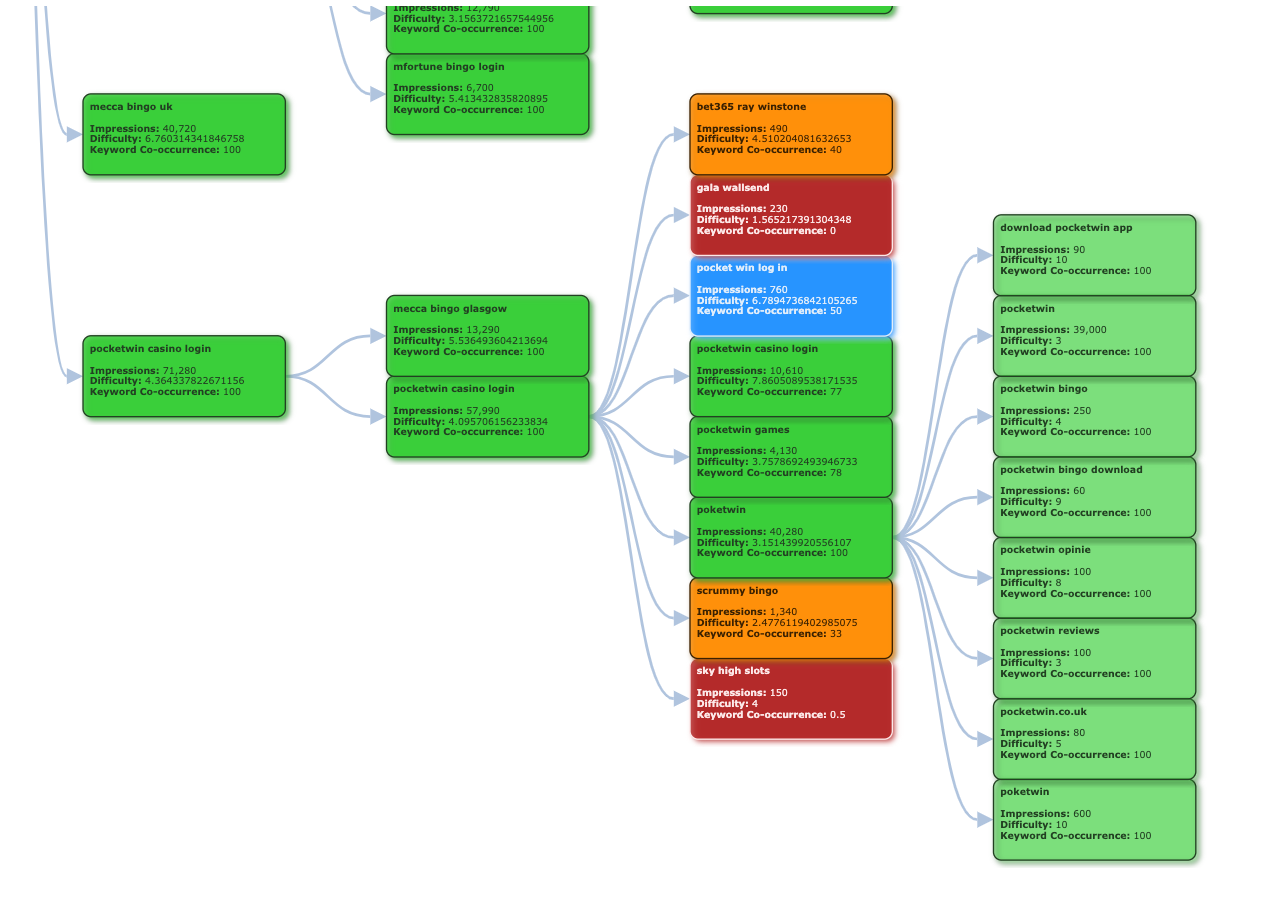 "poketwin" cluster
Capturing Freebies Search Intent

One group of clusters that emerge with high Keyword Co-occurrence and cluster confidence is revolved around "free $NUMBER deposit".
As we see in the image below, there are different categories that we can start targeting and creating content around variations of "5 free no deposit" (it obviously talks about monetary value).

The clustering results unraveled all the keywords that have a search intent on looking for deals and coupons like "deposit 10 play with 80" (pretty sweet deal, right?).
Freebies Search Intent
Misplaced Keyword?
(or maybe something smarter?)
When examining the clusters, we came across an interesting conundrum.
The cluster in the following image is predominantly about Cassava Bingo.
Almost all the keywords appear thematically relevant.
Almost all of them...
Except one; "dragonfish bingo loophole".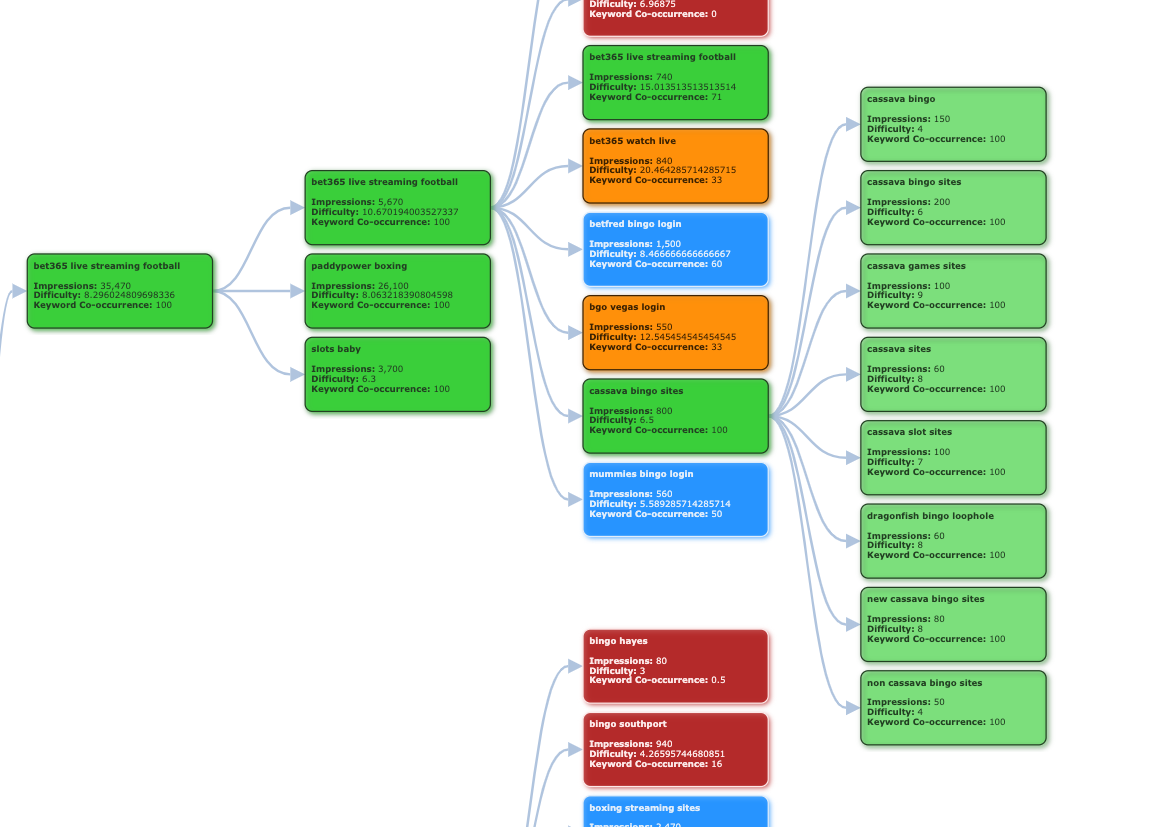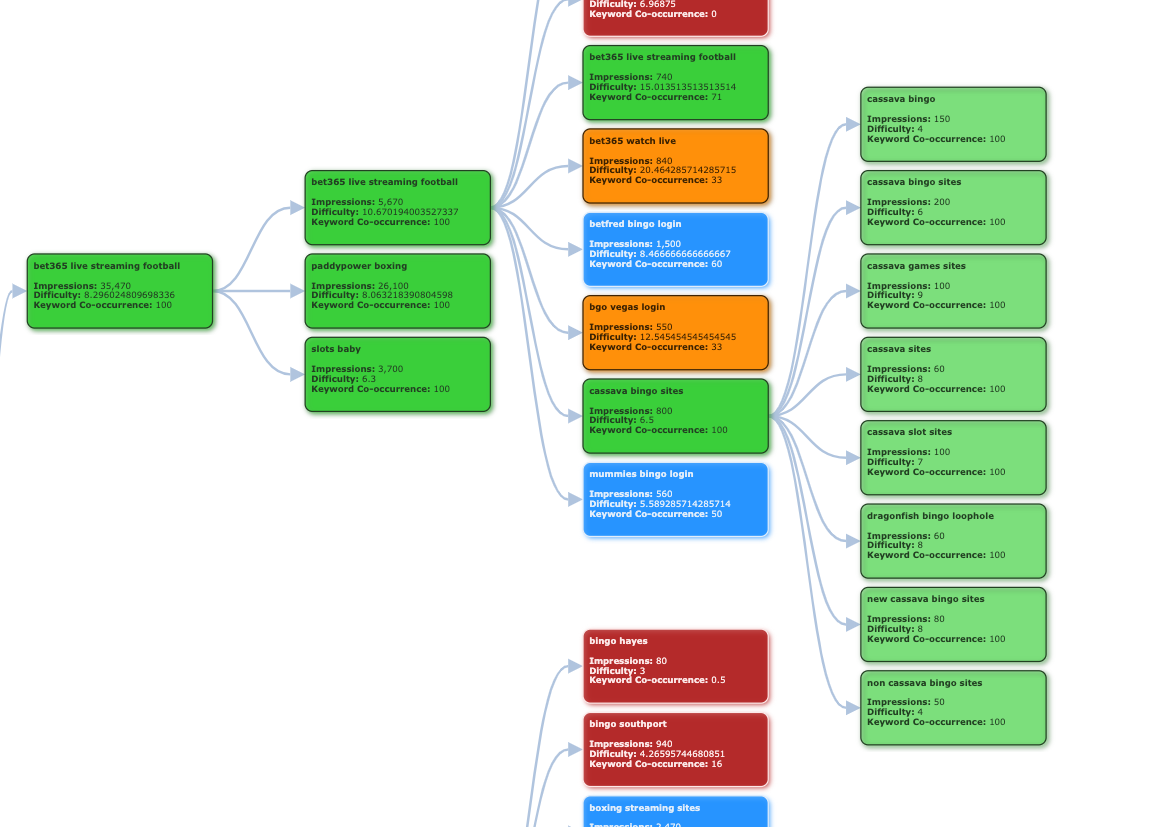 Cassava Cluster
We were puzzled by this and decided to look into more closely why the algorithm chose to place the keyword in that cluster, as there seem to be no precise overlapping results on the first page of Google nor the actual relationship between "Cassava Bingo" and "Dragonfish".
For starters, we found that keyword "cassava slot sites" has "https://www.dragonfishslots.com/" as its 8th result.
This is a good sign indicating a not-so-obvious relationship between "Cassava Bingo" and "Dragonfish".
"cassava slot sites" SERPs
Doing a simple Google search, we found that "Cassava Enterprises" is a commonly associated name with "Dragonfish" bingo sites. It became apparent that these keywords were grouped is because they highly overlap in subsequent pages.
The practical meaning of this cluster is that the algorithm captures knowledge about relationships that are very domain-specific and would only be available to someone involved in the niche.


From Google knowledge graph
This is good news because we can skip a large part of the learning curve when entering a niche by arming ourselves with inside information that will be up to par with the needs of an experienced audience.
In Summary
The results of this study illuminate many benefits of using Keyword Cupid for your keyword research.
We identified 2100 keywords that our target site is ranking for and automatically clustered them with no supervision.

From this list, we were automatically able to automatically group keywords by their distinct entities, such as game type (i.e. Bingo) or large Casinos (i.e. Pocketwin).

We were also able to segregate by different intents, such as "freebies" intent.
In particular, there are a plethora of keywords that search for 5 or 10 pounds of free credits when signing up for a casino, without making a deposit.
This information is helpful because we can direct our content strategy to capture people who are ready to signup immediately under our affiliate offer.

Lastly, our algorithm unraveled a subtle association between Cassava Enterprises and Dragonfish bingo sites.
Cassava is another 888 Holdings division responsible for the payments and licensing of all Dragonfish brands.
Such knowledge would typically be available only by experts in the field.

Our Excel report automatically aggregates each cluster and orders them with respect to the maximal amount of impressions volume and minimal competition.
Spread The Love To YOUR Project
Are you interested in applying our methodologies to your own project?
Do you want to obtain a recipe to restructure your existing pages in order to increase the relevancy for other related keywords?

We are ready to help!
Just point our cupid arrows in the right direction!

Disclaimer This case study is not afffiliated with any of the underlying properties of Mr. Dean or Mr. Patel and is purely created for demonstrational purposes.