Overview
Writing authoritative content is hard.
Especially if you're not an expert in your niche.
First you need to spend hours on research (just on your niche alone!), then keyword research, then competitor research...the list goes on.
Not to mention actually sitting down to plan your content - and let's not forget actually writing it!
The whole process was a slog when I first started as an in-house SEO content writer. I wrote for an online travel agency focused on Australia as its sole destination - a place I had never been to.
My manual process was long. It regularly took me several days to create one single blog.
The good news is I enjoyed the work - and my process worked well.
But there's a much faster - and easier - way to shave days off of content creation time.
And still produce content that drives traffic and ranks above competitors.
Thanks with the help of
Keyword Cupid
.
I'll show you how with my own experience writing an article about "Qantas premium economy."
Let's dive in!
Content Background
Qantas
is one of Australia's premier airlines, and one we often used to take our clients abroad.
My aim was to answer any possible questions from our clients about Qantas' premium economy cabin in particular.
After all, our clients would be spending more than 15 hours on a flight from the U.S. to Australia. We wanted to provide information to ease their worries about the long haul flight ahead.
That meant writing this piece like as if I'd experienced the service myself (...which I hadn't 😬).
But as SEOs, this is a problem we often run into. We need to provide content, but sometimes we're not subject matter experts on a particular niche.
This is where keyword and topic research comes in - and where I
spent most of my time
for this piece.
But the results made it all worth it, with consistent
page 1 ranking for "Qantas premium economy"
- even
above Qantas' own website
.
This page also brought in a large share of traffic to the company website -
over 1.1k per month
.
That's a lot for a local travel agency!
Targeting Topics, Not Keywords
I wanted to cover all the burning questions our clients might have about
Qantas premium economy
- basically, coming at it as a topic rather than targeting individual keywords.
This approach would uncover what themes our clients care about the most.
Another big advantage to this approach was to maximize the potential impressions of the piece, driving more traffic to the site.
Sounds like a lot of work, right?
It was.
The good news is
Keyword Cupid cuts the work
by more than half the time.
Let me show you how it stacks compared to manual keyword grouping.
Keyword Research
For this piece, I peeked at what my competitors were already ranking for and included that in my list of keywords.
Using
SEMRush
, I looked at the
top ten search results
for the term "Qantas premium economy."
Then I found all the keywords that these pages also ranked for and transferred them into one Excel sheet.
After a bit of cleaning up
(removing duplicates, branded keywords, and completely irrelevant terms)
, I had a good list of about
600 keywords related to the topic
of Qantas premium economy.
The list wasn't complete just yet.
I wanted to find gaps in this topic that my competitors might have missed.
Using the
Keyword Gap tool
in SEMRush, I found an extra 200 keywords related to "Qantas premium economy" that my competitors weren't targeting.
Pretty sneaky moves.
Keyword Grouping
Once I had my complete keyword list, I manually grouped these terms into mini topic clusters to find what themes my target audience cared about the most.
Yes, I did this manually. One by one.
Well, truthfully, I used a few excel formulas to help me group keywords together. I ran a function that listed the most repeated words in all terms
(apart from the main keywords)
to figure out what themes readers searched for the most.
It was
very rough
. Both in idea and execution.
How Manual Keyword Grouping Feels
We've all got to start somewhere in the keyword clustering journey!
But this helped me group keywords into rough clusters that would become different sections throughout my article.
And this process alone
took about two days
.
Content Planning with Keyword Cupid
Keyword Cupid takes the work out of manually grouping keywords into closely related topic clusters.
It even groups keywords into clusters by
user search intent
.
How Keyword Cupid Works
KC uses machine learning to group keywords together by analyzing how closely related the terms are
in relation to the search results of your target keyword
.
Plus, with the
SERP Spy
feature, KC can tell you
how to structure your content based on what your competitors are doing
.
To show you just how quick and easy it is to plan content with KC, I'll explain the process using my Qantas premium economy article.
How to Use Keyword Cupid
After compiling your master keyword list into a spreadsheet, create a new report and upload it to Keyword Cupid.
I also want to see how my competitors are structuring their content to maximize my on-page elements, so I'll run my report using the
SERP Spy feature
.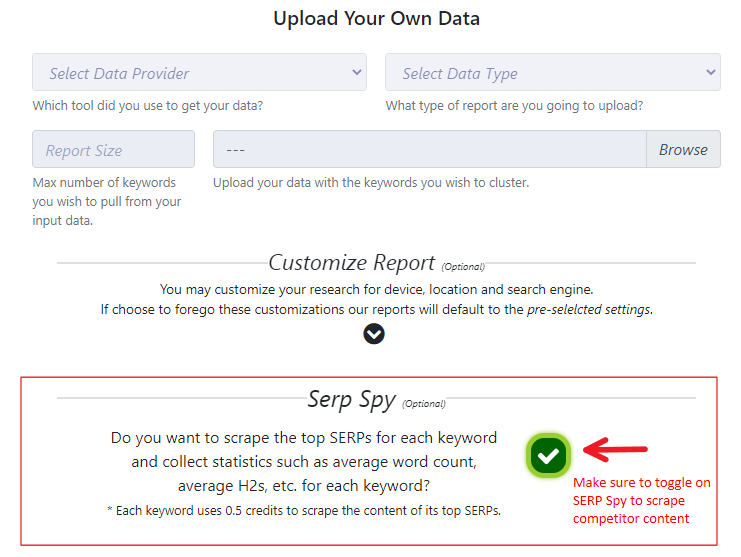 Enable SERP Spy
SERP Spy does use up extra credits, but I think it's totally worth it.
After KC processes your keyword list, it outputs an interactive mindmap and Excel document with your keywords grouped together.
Here is the interactive mindmap:
Qantas Mindmap
And here is the Excel List View:
Qantas Excel Report
Our
guide to Keyword Cupid
goes into more detail on how to use KC and its grouping process.
But to put it briefly, the analysis is driven by search intent, which means KC scours the search results to find how keywords overlap - even when the connection isn't apparent at first to human eyes.
Manual Clustering vs. Keyword Cupid
When I manually clustered my keywords, I grouped keywords related to Qantas seats and seat dimensions together.
I figured anyone searching for "Qantas seats" would want to know about seat dimensions.
Right?
Well, when I run the same keyword list in Keyword Cupid, a deep dive into the report shows me that "Qantas flight seats" as a
theme contains more transactional search intent than informational
.
Qantas Flight Seats
According to Google, users searching for "qantas flight seats"
are looking to take action
- whether it's booking a seat online, changing seats, or viewing seat options.
KC was able to
find that these supporting keywords
overlapped with buying intent and
grouped them together
accordingly.
Honestly? Mind. Blown. 🤯
My intent with this piece was to be more informational - to build trust with users higher up in the sales funnel.
But if my intent was to create content to generate sales,
KC makes it unbelievably easy
to figure out which clusters and supporting keywords to target with laser focus.
Creating a Content Outline
Once you have your keyword report from KC, you can get an idea of
how to plan an outline
using the page themes as headers.
When I planned out my article on Qantas premium economy using my manual keyword clusters, I figured out I needed to include sections on:
The check-in process
Seats
Service
Food
Drinks
Again, the process took me days to group keywords together according to what themes were most important to my readers.
I can be a bit scrupulous with my work.
When I run the same keyword list through Keyword Cupid, the whole grouping process is done for me with a simple click of a button.
For writing purposes, I find KC's Excel report more helpful in determining what sections to include and their headings.
Excel view
I use
Column B
to
determine the topic of each section
to include in my content.
And look, KC found a section on meals:
Qantas flight meals
And here's where I can include info about seat dimensions - under a section including "Qantas premium economy legroom" as the header:
Qantas premium economy legroom
It's crazy how easy KC makes it to plan content.
On-Page Optimization with Serp Spy
Now that I know what sections to include in my outline, what's next?
This is where
SERP Spy comes in
.
When KC has completed processing your keyword list with SERP Spy, it also includes data on how your competitors are using the keywords of each cluster.
Here's how to access Serp Spy data in the mind map:
Mindmap Serp Spy
When you click on the hamburger menu icon to the left of the mindmap, it expands to reveal more features of the mindmap.
Click on the binoculars to toggle on Serp Spy data:
SERP Spy Interpretation
Now each cluster node includes specific data on average word count, keyword usage in headers, links, images, and more.
It even tells you
how many bolded keywords your competitors use
.
Every signal counts!
The Excel report also gives you this data to the right side of the spreadsheet, starting with column T after the Supporting Keywords colum:
Individual Onpage Data
This
data is absolute gold
when planning out your content to beat your competition.
And what's better than having all this data right at your fingertips?
It only takes a few hours to get right in front of your eyes.
No more spending days fine-tuning your process and combing through keywords manually.
Keyword Cupid is definitely a better match. ❤️
The Results and Beyond
Now, I'm absolutely not knocking manual keyword clustering out of the park.
In fact, my efforts with the Qantas article yielded pretty decent results.
The article
started ranking for keywords immediately
after publication, and snagged a few page one positions after just three months.
At one point, it even
ranked above the Qantas website
with the
featured snippet
for the target term
"Qantas premium economy"
-
for over three months
.
And that's
without building a single backlink
.
Rush Serp Analysis March 2020
Featured Snippet Ranking Above Qantas Site
But what's the point of showing you this historical data?
These results were achieved with careful content planning using manual keyword grouping.
Add in Keyword Cupid and the work to achieve these results is cut by more than half.
I can confidently say KC can even return exponential results - much higher than manual keyword work.
Don't believe me? Just read Marc Moeller's case study using Keyword Cupid to
achieve x540% traffic increase in 5 months
.
With KC in my arsenal to uncover topic clusters and search intent for a new niche, I doubt I'll even attempt to group keywords on my own.
It makes conquering the SERPs so much easier!
Now I use KC to help me plan site architecture, content silos, and drill down on content creation to build my own travel website.
Stay tuned to see the results!