Struggling to find fresh topic ideas?
Well, you're not alone.
However creative we are, sometimes it's hard to generate new ideas on a regular basis.
And besides, people are getting pickier and pickier, so you have to work even harder to not only write something interesting but make it unique as well.
Add to that the annoying writer's block that seems to follow me everywhere (it's normal, I think) and we've got a problem.
So to solve that, I've created a sort of a mechanism that generates great content ideas for up to a year. I'll also share some tips on how to find untapped topic ideas to get the lion's share of the traffic right off the bat.
Let's dive in!
Getting Started: Set Clear Goals
Before we get started, let's just talk a bit about your goals.
You probably want to fill your blog with a bunch of articles, or find ideas for your social media posts, podcasts, YouTube, etc BUT… you won't see much of a result for your efforts unless you clearly define your goals.
Sounds pretty boring (couse it is), but it's sort of necessary.
Say you want to increase your website traffic by 15% in a month. While someone else might want to increase their revenue from affiliate posts.
Two different goals that require entirely different strategies.
So before starting, ask yourself; why am I creating this content?
Keyword Mapping Strategy
One more thing before we start the list.
I can see you rolling your eyes.
But hear me out.
What's the point of creating high-quality information-packed articles if no one's going to read them or even be able to find them?
I know
keyword research
is not what it used to be several years ago and targeting some 3 big search volume keywords won't help you become discoverable for people. Instead, you should create a strong keyword strategy to support your content marketing efforts.
My personal favorite strategy when it comes to content is the content clustering approach but it can basically be applied to any strategy you choose to work with.
I've talked about this in my previous '
From Cluster to Content
' post but I'll briefly go over the process for those of you who haven't read it before.
While I'll be the first one to admit that keyword research has changed I won't ever say that it's not important anymore. Quite the opposite actually.
In my humble opinion, keyword research and mapping are the concrete base your content strategy stands on and without it you are just shooting in the dark, hoping it sticks.
Here is a brief overview of the process I use for a killer 6-12 month content strategy.



Starting with the traditional competitor keyword research I pick a handful of my strongest and most relevant competitors to analyze.


This goes directly to Ahrefs (or your KwR tool of choice) for a ranking keywords report.


Afterward, all the individual reports plus the existing data from GSC (if there is any) gets combined to start the filtering process.


Now is the time to remove all the duplicates as well as brand names and other unrelated keywords that are not relevant to the brand.


After the keyword research file is finalized it goes straight to Keyword Cupid for mapping.


Once I have the report, the next step is to create the buyer personas the content is going to target. (seems out of place, but you'd be surprised what the keywords can tell you)


Then, I go ahead and filter all the individual silos and create numerous topic clusters for each theme that is relevant to the brand. Since Keyword Cupid takes care of the clustering for me there's nothing much to do except to move around or combine a few silos.


Next, each topic cluster complete with a pillar page and supporting articles move to the content calendar for the final step of this whole process; to be written.



The one thing you can take from this process is that keywords tell you everything, absolutely everything. From search intent to various search patterns to increasing/decreasing interest levels keywords are the goldmine that many miss out on.
Please don't be that person.
And the best thing after doing all of this hard work is that you have at least 6 month's worth of topic ideas (thanks to the page theme on your KC report) not to mention the fact that they are clearly mapped to different clusters, making your blog even more structured and easier to optimize in the long run.
Finding Topic Ideas
I admit not everyone is an experienced SEO equipped to do such deep research. It can be scary to think about working with tens of thousands of keywords.
I've got your back though.
It's not absolutely necessary to create an elaborate content strategy every time you want to write something so I'll show you some quick and easy places where you can find fresh and very relevant topic ideas that your audience will surely enjoy.
A small tip before I get started though; It's far easier and more efficient to create a list of topic ideas for a month or two at a time instead of coming up with a title at the spot.
Well, that's enough, enjoy the list.
Online Forums (Quora, Reddit, etc.)
Online forums are a great source of information and inspiration for many.
This is a dedicated place where people come to ask questions, share their thoughts and make discussions so naturally one can imagine the number of topic ideas that can be extracted from there.
There are also a number of niche-specific groups where you can follow industry trends and see what piques people's attention.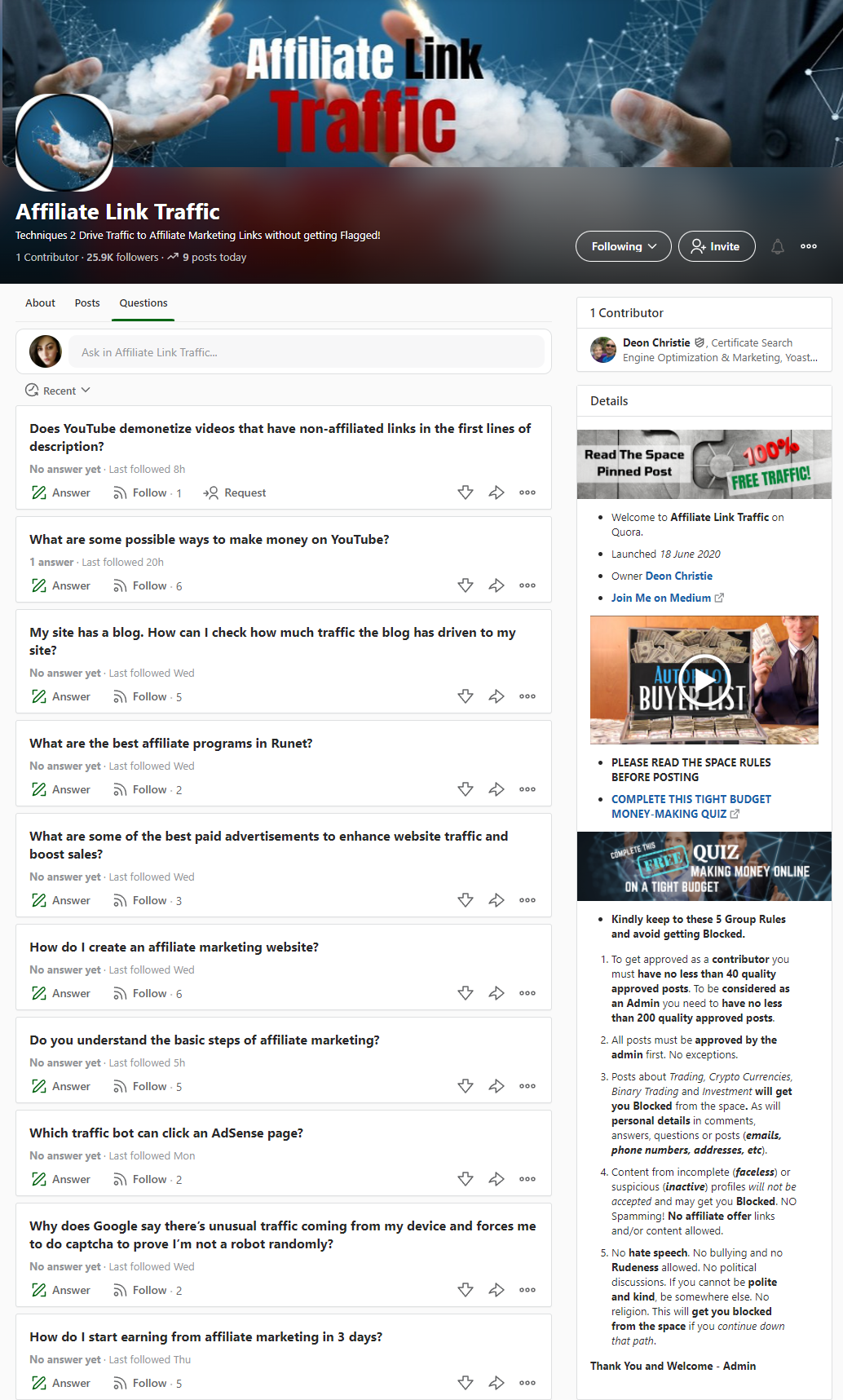 Quora
You can also search for industry-related forums, where you can find more valuable information on anything and everything.
Although not a forum by definition, Slack groups are another goldmine of ideas for content marketers. As Slack is closed to the public, channel members feel more comfortable sharing their latest discoveries, case studies or horror stories with the members and trust me the smaller groups are packed with information, you just have to keep up.
Competitors
There is no shame in spying on your competitors and seeing what they are up to.
I am in no way suggesting you go in and copy their content strategy but it can be nice to see what they are writing and how people are reacting to it.
Competitor Blog
In terms of content creation and finding new ideas I choose topical competitors, not direct competitors as say affiliate websites can have better and more in-depth content than a direct competitor with a similar product offering.
Try looking for topics you haven't covered yet and writing even better content that covers the topic entirely.
That's your competitive advantage right there.
Competitor's YouTube Channel
If your competitor's on-page content is not enough head over to their YT channel for even more content ideas.
You can sort their videos by 'Most popular' and see their most-viewed videos.
Keep the vidiq extension turned on for even more data on each video, including their video tags and such.
Competitor Youtube
Unlike with written content, you can easily copy the title of the video and even watch the whole thing for inspiration. Not to mention that once you find a relevant video that fits in with your content strategy YouTube suggests a bunch more that are very similar to the one you just watched. It's sort of an endless supply, so explore to your heart's content.
Youtube Videos
Except for the competitors' content you can further explore YouTube for relevant videos that target your topic of choice. But do not simply watch the videos, observe the views, definitely read through the comments and highlight the question they are asking. You might be surprised how much you can find in the comments section alone.
Google Search and Image Tags
What do you do when you have a question?
Simple, you Google it as many millions of people do.
So do the same here. Similar to keyword research you can find some interesting topic ideas from the autosuggest results, PAAs or the related topics section. Make sure to clear your browsing history though.
Besides, you can use Google Image tags to find even more ideas. Go to Google Images, type in a broad topic and look at the tags. These are the tags that Google thinks are most closely related to what you searched for. If you click on them, you will find even more ideas about your desired topic.
Google Images
Google Alerts
Google Alerts
is a great tool for closely following the topics that you want to write about. You can schedule to receive alerts directly to your email weekly, monthly, or whatever period you want.
Who wouldn't want a list of the top content about your target topic straight to your inbox?
Also, check Google Discover whenever you're searching for an idea. It's a good way to learn about the recent content that came out in your industry and get new inspiration for topic ideas.
Google Trends
If you're not satisfied with the standard Google autosuggest and want untapped ideas that are trending right now, Google Trends is your best bet.
It analyzes the top search queries and compares the search volume over time. By using Google Trends you can rest assured that your topic of choice is the most relevant for that timeframe. Besides, this tool analyzes the popularity of search terms for different regions around the globe, so if you want the results about a particular country, you can get them here. Plus you have a related topics and related queries section at your disposal for even more inspiration.
Google Trends
Google Hot Trends
is also a great tool if you want to find out the most recent news. It shows the top 20 fastest-rising search terms and is updated hourly.
Exploding Topics
Since we are on the topic of trends make sure to check out Exploding Topics as well, where you can really find all the recent hot trends from all over the Internet. It analyzes millions of search terms, conversations across the Internet to find out which content is the most popular and trendy at the time. This is especially useful if you're creating content about the most popular trends.
Exploding Topics
Google Search Console and Analytics Tools
Don't forget to check the performance of your existing content as well. And what better place to keep track of your content than GSC. It not only gives you information about your performance but also what users are interested in.
How?
By telling you which posts gained much traction and which ones flopped. Once you figure out what resonates with your audience, creating more around the same topic becomes much easier.
Social Media Groups
Social media groups are a great source of information for many marketers. Similar to online forums social media groups, namely Facebook and Linkedin groups are packed with real-life questions and answers to the most
Find some industry-related groups where your audience is hanging out and check the posts, questions that people ask, their thoughts, comments, etc. You can also create a survey and ask the group members to participate in order to find out what type of content they would like to engage with.
Li Group
Social Media Followers: Comments and Feedback
Follow your followers. Pay attention to the comments and feedback your posts and your brand's page receive. People might tell you what they like and what they don't like and they can be brutally honest. Always respond to your followers' comments: the best way to learn what your audience expects from you is by simply interacting with them.
Social Comments
Or simply ask them.
If you are not sure what your audience expects from you, create a survey. If you're not sure whether your customers are interested in your content, ask them directly. Share the survey on your socials, groups and forums, or send it as a part of your newsletter.
You don't need to get thousands of answers, even a couple can make a difference.
Your Website: Comments, FAQ
Once we are on the topic of comments let's review the comments on all your posts.
You actually need to do this regardless but for the purpose of this post take a look at the comments, FAQs, user queries you get.
They can all give you useful insights, no doubt about it.
If people ask questions in the comments section under your post, it can directly go to your content calendar to be written shortly after. Simple as that.
Blog Comments
The FAQ section includes repeated questions, which can help you define some pain points that your audience repeatedly faces. Maybe these questions can help you create a guide or an ebook to give a comprehensive answer.
Also do not neglect the queries your sales/support team gets from customers. They know all the pain points of your customers, or at least they should, so talk to your sales and customer support team to find out what they know and what they think. They communicate with customers directly, so who can understand them better?
Social Media Influencers
However much I didn't want to include influencers in this article, it seems I am out of luck.
For some industries influences and their content can be a real source of inspiration and I can't ignore that. Thanks to their large and engaged audience these influencers are able to create the most targeted content specifically tailored to their followers (because their followers ask for it).
Try following both bigger and smaller influences within your niche. Bigger accounts have the resources to create the best content but sometimes it's overridden by overtly sponsored posts while micro-influencers have closer relationships with their audiences and put out more authentic content, so they might be more helpful than those who have millions of followers.
Hashtags
Hashtags can also give some decent topic ideas for fast-paced industries. Follow the popular industry hashtags to find out what your audience is interested in. Look for the buzzwords, questions and topics that are the most popular at the time.
This is also a good way to find out about the recent trends and challenges on social media, which can help you always be aware of the latest news.
Not groundbreaking, but still might be useful you know.
Podcasts, Online Interviews and Surveys
Last but not least let's listen to what the industry experts are saying.
Podcasts are rapidly growing in popularity and there's certainly something for everyone these days. Check out the most popular and industry-specific products you can find. You don't necessarily need to listen to them all either. Just go over the list of the episodes and your topic ideas are ready to go.
Pay close attention to interviews with industry experts, what they talk about and how they explain their point of view. This is where you can find the most recent and highly relevant topics about your industry. Even if they are just sharing their stories or experiences, it might still give you some ideas.
Interviews
Bonus Round
Look at conferences, webinars, online courses, masterclass agendas for even more ideas that no other tool can give you. After all these conferences, webinars are focused on the latest in-demand topics that people are willing to pay for.
Just imagine the potential.
Final Words
That's about it.
Hope you enjoyed it and found something useful.
Every content creator has ups and downs, so whenever you feel like you can't generate new ideas, come back to this list and try again.
Or better yet start by creating a foolproof content strategy that will have you covered for months.
Either way, make sure to check out Keyword Cupid with its ever-updating awesome features.
Hop on a
7-day trial
and let us know what you think.
In the meantime have a great week whenever you are reading this and see you in the next one.