Whether we want to admit it or not every single piece of content that we consume online has a purpose: to get you to BUY. Or sign up, hop on a free trial, leave your email, schedule a call, give it a like, click to learn more, etc.
Content is a powerful tool that can lead your website visitors from discovering your products to making a purchase.
The average customer engages with 3-5 pieces of content before talking to a sales rep.
That's a huge opportunity to convert potential customers and it will happen much quicker if you have the right content tailored to their needs.
The tricky thing is your potential customers are at different stages of their buyer's journey at any given time, and even if they are from the same target audience, they have very different needs. And besides that, people are naturally very picky and will scroll through dozens of websites until they find what they need.
Basically, they are spoilt for choice.
And it's your job to break through the noise and shine a beaming spotlight on your brand. Tough luck.
The best you can actually do is create content tailored to each stage of the buyer's journey. After all, every piece of content you create is meant to lead the prospects through the marketing funnel in one way or another and help them find answers to their questions along the way.
And that's exactly what we're going to discuss in this article.
So, let's dive in!
Understanding Marketing Funnel
First things first, let's start with the marketing funnel.
For those of you who don't know the marketing funnel describes the stages that potential customers go through from visiting your website for the first time to buying your product/service. And when they go through the funnel, many of your potential customers will drop off. That's why it has a form of a funnel.
The closer they are to the top of the funnel, the less they know about your product/service and the further they are from the purchasing decision. The closer they are to the bottom, the more the chances that they will make a purchase.
The basic marketing funnel includes three stages: awareness, consideration, decision.
The first stage is the
awareness
or discovery stage when a stranger discovers your brand or your product. At this stage, your job is to trigger their interest and attract them towards your product so that they go to the next stage.
At the
consideration
stage, prospects already know you and your products, but they are still far from buying from you. They are trying to find out whether your product or service is the best fit for them.
And at the final
decision
stage, the prospects are nearly ready to buy and they need the last bit of information to finally make the purchase. This stage is also about delighting your customers so that they come back to you.
Funnel Stages
There is also another
cyclical approach
to the marketing funnel, which places the customer in the center and implies that the buyer's journey is not a linear process. And it makes sense, as a good content marketing strategy shouldn't be about a one-time purchase but a constant nurturing process so that your loyal customers won't leave you.
But either way, the stages of the marketing funnel stay the same, so let's proceed.
Understanding Your Buyer Personas
You might wonder why is she bringing buyer personas into this and the answer is simple: if you want to create the best content for your audience, then you need to understand your audience first.
Makes sense that you should know who is actually going through your marketing funnel, right?
Chances are you probably have created your buyer personas a long time ago. But even if you have, here is some food for thought.
Are you creating content for your target buyer personas at each stage of their buyer's journey?
Sure, your buyer personas remain the same, but they need different content at different stages of the funnel. When you don't completely understand your audience and don't provide the content they are interested in, you risk losing them.
So you should consider finding out how your personas behave at different stages of the funnel. Learn how your potential customers think, what questions they have, how they find solutions to their problems.
Hint: keyword research can help you out in answering these questions.
This way you can create a sustainable
long-term content strategy
, which will perfectly resonate with your personas at each stage of their journey.
Everything starts with attracting your audience. We all know attention is key. They don't know about you and don't need your product, but your content catches their attention. And if they become interested in your content and discover that they need your product, they move to the next stage. Here, they start to compare your product with your competitors' in hopes of trying to find their perfect match. And when they finally find what they need, they move to the final stage of their journey. When they are completely satisfied with their research, they make the purchase decision.
Now, as you know everything you need about the buyer's journey, it's time to get to work.
Creating Content For Each Stage of Marketing Funnel
Step 1: Research
Speaking of buyer personas, let's go ahead and create a few personas for your brand. I mean even if you have established personas it wouldn't hurt to revisit them again. The world is changing way too fast for your customer to stay the same.
Find anything you can about your audience, the more you know the more your content will resonate with them. Find out their interests, demographic information, their pain points, problems, etc. There are many ways to learn all this, and the simplest way is to directly ask them. You can create a survey and send it to your email subscribers, social media followers, or your loyal customers. Just make sure to separate them by the funnel stages.
At different stages of the funnel, your audience will have different pain points and questions. So, take a look at your keyword research files and find out the questions your audience is asking, the topics they are interested in and the search patterns they seem to follow. If you take on a competitor keyword research you can find out a lot about your audience and the market itself.
The purpose of
keyword research
is far greater than simply plucking out a handful of keywords to sprinkle into your page content. Take a close look and you'll see clear search behavior and possible missed opportunities your competitors are not covering.
Also, pay attention to what content format and channel they prefer at each stage.
After the research, create or update your buyer persona. It usually includes information about age, profession, interests, hobbies, etc. As at different stages, people will behave differently, add that changeable information separately for every stage. Thus you will always have the information you need right beside you.
Step 2: Choosing Content Formats for Each Stage
At each stage, your potential customers will have different preferences for content formats. There are some formats that would generally resonate with every industry, but if your research shows that your audience prefers other content, then you should put a lot more effort and resources into creating what your audience wants.
Overall, I'd say have a balanced strategy and don't focus on one single channel. If TikTok is working for your audience right now, it might blow over later down the road so having a well-rounded strategy across various channels is the key to nurturing your potential customers through each stage of the funnel.
Marketing Funnel Content
Content Formats for the Awareness Stage
At this stage, people are looking for information, research data, education, answers to their questions and usually, they have informational intent. For the awareness stage these formats would work the best:



Blog posts


Social media posts


Videos


Checklists


Whitepapers


Ebooks



Blog posts
Blog posts are an ideal content format when attracting new visitors. By answering their questions, offering a solution to their problems, you can easily catch potential customers' interest and bring them to your website.
If you have a well-written, SEO-optimized blog post, it could be easily discovered by your audience. You can also promote it using other channels.
Social media posts
We can't forget about promoting the content to attract as many eyeballs as possible, can we?
That's where social media comes it. Whether you like it or not social media is a great channel to promote all sorts of content and attract a wider audience.
Except for promoting your website content across your socials, consider a strong, customer-focused social media strategy that will go along with your content strategy for creating awareness.
Videos
Videos are a powerful way of communication, especially when your audience knows nothing about you. Besides they are more interactive and you can easily share them through your social media channels or include them in your blog posts.
Checklists
Easily digestible and quickly available snippets of content always work wonders for information-heavy industries.
It could be in a form of visually-attracting infographics that teach something or show the essential steps for achieving some goals. Help to solve your audience's issues and you will have their attention.
Whitepapers
Some industries call for specific types of content formats and whitepapers and a wonderful example of that. Whitepapers are essentially advanced problem-solving guides that walk you through the problem at hand and the solution presented by the brand. It can be a very persuasive introduction to your company if formatted and distributed correctly.
Ebooks
Ebooks are similar to whitepapers, except that they are shorter and more actionable. A valuable educational ebook is a great way to gather an email list, which in turn you can convert into a sales pipeline.
You can also create industry research reports, or statistics, that will definitely grab a few editors' attention. Research materials like these are a great way to boost up your backlink profile and build brand awareness, trust me.
Content Formats for the Consideration Stage
During the consideration stage, people are usually looking to do some more research before deciding to commit to a product or a service. They are actively looking for more information about your offer to find out which option is the best for them and suits their needs the most. Since a lot obviously depends on this stage your content strategy needs to be top-notch and very convincing.
Here are the formats that would make their decision-making process easier:



Blog posts


Product comparison guides


Reviews, ratings


Case studies



Blog posts
Blog posts can work equally well at this stage too, at any stage honestly. Blog content can be very versatile and useful for building a strong pipeline, so make sure to have a proper strategy in place.
Your audience already knows about you, has probably read some of your articles already and now you need to build trust and show them what makes you different.
Show your expertise in the form of blog posts, share product reviews, how-to guides, openly compare your product with the competitors' and people will have enough to make a purchasing decision. Don't forget to place carefully thought-out CTAs thought, you never know when a potential custom actually will become one.
Product comparison guides
Comparison guides are powerful decision-making tools, no doubt and you definitely should use them both in your on-page and off-page strategy. Create detailed pro/con guides with your closest competitors on your own blog and try to get
Reviews and ratings
Nothing can convince potential customers of which option they should go for more than reviews and ratings of previous customers who already have sampled the goods.
If you are a service provider, make sure to have strong testimonials from previous clients on your website. Pay attention to Google reviews and third-party review websites, like Clutch, as well, every single review can make a difference so make it count.
If you are an e-commerce, proudly add a review section under your product pages and encourage your customers to leave reviews. Yes, the good comes with the bad, no matter how amazing your product is, but people have different preferences and simply having a negative review management strategy in place will do the trick.
You can also collaborate with influencers and ask them to share their opinion about your product in the form of a video, social media post or even a blog post. Yes, even blogs; there are a lot of powerful niche bloggers that can bring your product in front of a very large audience.
Case studies
While on the subject of reviews, let's talk about case studies. Admittedly they are awfully specific and can be used for service-based businesses, they are a game-changer.
What better way to show incoming leads you can get the job done than by actually showing them previous success stories from your beloved clients?
Make sure to have as much detailed, quantitative data about the projects you are highlighting as possible, without breaking any contractual obligations of course. Show where you started and what you've managed to achieve in a certain time face, and never forget to use visuals. People are visual beings and graphics, charts, tables work really well to show your results.
Free samples
Some might think this is a questionable tactic, but let's admit, we all love free stuff. The feeling of getting something completely for free makes us feel a certain type of way and marketers have learned to capitalize on that feeling.
Free samples can work well both during the consideration stage and the final stage.
If you are introducing a new product to the market adding this to your overall strategy can be a brilliant idea. Or if you are a service provider offering free consultations, free trials, etc to your customers can definitely help them make their decision faster.
Content Formats for the Decision Stage
At the final stage, the customer is ready to make a purchase and is looking for ways to buy or try your product. And your task is to help them make that final decision in your favor. The following content formats will help you do it:



Free trials or demos


Emails


Social media



Free trials or demos
Offer your audience to try your product or service and they won't be able to resist buying it. The test drive tactic has been used by car dealers for decades. Do you know why? Because it works.
If your potential customers are even a bit unsure about certain features of your product, after trying it there will be no questions left.
And if you are a service provider offering free consultations, free trials, etc to your customers can definitely help them make their decision faster.
Emails
Emails work great at every stage of the buyer's journey, that's not news to anyone.
I just thought to mention it here so that you are once again reminded that you absolutely need to take care of people who already bought your product. If you want them to come back, refer you to their friends and leave a positive review, you need to reengage and nurture them further. We all know it's far easier to retain customers than attract new ones, so hold on to them.
Offer them some special content, downloadable files which are created only for your loyal customers, special discounts, limited-time offers, etc. Thank you emails, birthday/anniversary congratulations, gift cards, discount codes can win the hearts of your audience.
You can also create some curated content for them, such as blog posts or videos about how to use your product/service more efficiently, or how to get the most out of it.
Social media
There is probably no need to further state the role that social media can play in staying relevant to your customer, but it wouldn't hurt to mention either.
Social media platforms truly give brands an opportunity to openly get to know their customers, discover their new pain points, answer their questions and interact with them at a more personal level. The feeling of belonging to a community and being part of something bigger will surely make them feel connected to your brand, making repeat purchases and new launches a breeze to market.
Remember that your business and your audience are unique and they have different preferences. Some spent a long time at the consideration stage, some at the final stage, and you just need to know your audience to give them what they want. Do thorough research and make sure that the content format you choose answers their needs at each stage of the buyer's journey.
Step 3: Creating the Content Strategy
I don't want to zero in on the strategy too much, as I've written about
content creation strategies
for various blog types, so if you want to give those a read go ahead.
What I'd like to focus on is the structuring of the strategy itself. As I've mentioned above keyword research can be an unmatched source of data for figuring out who your ideal personas are, as well as what topics you need to cover so that you can cater to your audience.
Knowing your customers' pain points, questions, frequent queries, you can create a
comprehensive strategy
that tackles everything within your ideal personas' interests.
That seems to be a lot to cover, and it is, but in this day and age it's possibly one of the most effective ways to get as much search visibility as you possibly can while having a sustainable strategy that won't result in unnatural spikes or drops.
In order to accomplish this, you need to do in-depth competitor keyword research, which will give you all the data you need to create
structured topical clusters
that will each cater to a certain audience at a certain stage of the marketing funnel.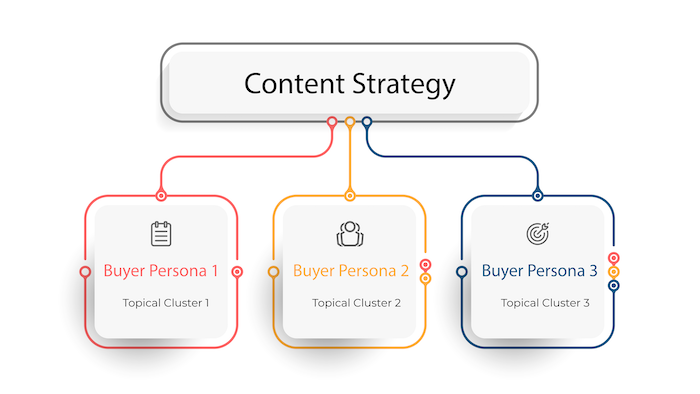 Structured topical clusters
Remember that at each stage, your audience has different
search intents
and your content needs to be relevant. Intuitively structuring your whole content strategy to have clearly divided pathways for each group to walk through, will not only make your visitors' experience on your website enjoyable but will ultimately help with getting you to take over the SERPs.
Final Thoughts
Creating relevant content for each stage of the marketing funnel is not an easy task. But with a structured approach, good research and high-quality content you can succeed.
Just keep in mind that you create content for people, and they have different needs at each stage of their journey.
That being said, make sure to check out
Keyword Cupid
to supercharge your content strategy.
Hop on a
7-day trial
if you aren't a proud KC member yet.