We are all so busy nowadays with a million things hogging our brains.
And the last thing on your never-ending to-do list is your poor blog.
You are thinking: ok, I'll check my blog at the weekend.
But something always happens.
And the weekend turns into next week.
A week turns into a month, then six months and there's no catching up.
And now you end up with a 3-year-old blog with a bunch of content that has no structure, barely any internal links, and strategy behind it.
I don't blame you really.
You might have been under pressure to have a blog as everyone told you to have one because, without it, your website won't rank (or some bs like that).
So you went in headfirst and created whatever came to mind.
Back in the day you could have very well gotten away with mediocre, under-optimized content.
Things are a bit different nowadays.
Even the top-quality content needs some pushing to gain visibility, let alone a heap of useless content that's been sitting around for years without any updates.
And you probably realize that this is quite bad that's why you are here.
Or you are simply looking to spice up your content.
Either way, you are all welcome.
Before we get started if you are intending to do a blog overhaul check out
Content Creation Guide Part 1
to get your strategy straight.
After that come back in here to sort out your existing content.
And if you are here to fit your perfectly good content into a more structured approach let's get right to it.
I hope you are ready for what you've signed up for.
Just kidding.
Not!
Run A Content Audit
First things first, we need to do a
content audit
.
Aren't you interested in how your content is performing?
Hopefully.
During the audit, we are going to take an in-depth look at your on-page content to figure out how successful it is.
Basically, we are taking a look at:
Overall traffic for each post and page for the last 12 months (or less, depending on when it was published).
Percentage of organic traffic for each post.
Current ranking for target keyword(s) for each post.
Average time on page for each post.
Conversion rate.
The total number of social shares per post.
The number of external links pointing to your post.
The number of internal links pointing to your post.
Page authority.
Depending on your goals for your content you should analyze certain
user engagement metrics
to understand which topics perform better in order to create more content on those.
Whether your goal is more conversions, brand awareness, search engine rankings, etc. you can take that into consideration when analyzing your posts.
In short, some of these critical factors will help you decide whether you'd like to:
Update a piece of content.
Repurpose a piece of content.
Delete the content.
Catalog Your Content
First, we need to start by
collecting all the URLs
we are going to analyze.
Spreadsheet time!
There are plenty of online tools out there that can help you out with this if you have hundreds of pages of content.
There's always the option to do it manually as well.
And a great hack here is to
use your sitemap
.
If your sitemap is structured, meaning the blog section is in a separate folder from the rest of the landing pages then you have your work cut out for you.
Gather Data Assets
Once you have all of the URLs in a column it's time to gather some additional data on key variables to give you more context about each page of content without constantly having to open it to check certain things out.
We are looking at collecting data on a few key points such as:
Word Count
Type of content (blog, resource page, e-book, infographic, etc.)
General Topic/Category
Page Title and H1
Meta Description
Target Keywords
Date Published and Last Updated
Now comes the fun part.
Time to do the heavy lifting!
Audit Your Content to Find Topic Clusters
After you have collected your URLs now's the time to group them up by topics.
You might already have categories/subcategories on your blog section that will make this a lot easier.
If you have, sort them out by the
larger categories first
and then go over them and catalog by specific topics.
This will give you a nice idea of what
topics you are already covering
, how well you are covering them, what you are actually missing and how relevant it is to your target audience.
There is a pretty good chance that some of your categories/subcategories will represent the topic itself, but that's up to your actual strategy.
There are some blogs that are very niche and cover a handful of topics which makes this process easier.
After all if you are trying to master the content cluster strategy, it's better to
focus on specific topics
that cater to your target audience rather than everything and anything that comes to mind.
The final look of your spreadsheet is going to be like this:
Example Spreadsheet Content Audit
This was the hard way.
Now I'm going to show you how to automate this whole process by using an amazing keyword clustering tool called
Keyword Cupid
.
First, get your keyword research file out.
If you don't have on... how?
However, if your keyword research file hasn't been updated in ages, please update it right now.
Make sure to include all of your ranking keywords as well as your target keywords.
Second,
run a report
with Keyword Cupid.
Choose your settings and let KC scrape all of the data you need straight from Google SERPs.
Enjoy your coffee while the report is running.
Once it's ready to go you can either
view the mindmap
or export all of the clusters into a
spreadsheet
.
Whichever floats your boat.
The cool thing with Keyword Cupid is that it groups all of your keywords together and
creates thematically related clusters
that represent your topic cluster.
Moreover, you have solid data to back up each keyword grouping and on-page metrics thanks to the SERP Spy feature that tell you how the average content is written in real-time on the Google search results.
The only thing left to do is
match keywords to the articles
and you have your cluster structure ready.
Well, almost ready.
There is one thing that you need to keep in mind when going through your keywords.
Cannibalization
.
It's actually quite challenging to create multiple pieces of content around the same core topic while avoiding potential cannibalization issues.
For those of you who are not familiar with the terms, keyword cannibalization is when multiple pages are
trying to rank for the same search term
.
Basically, your own pages are competing against each other which is not an ideal situation to be in.
Keyword Cupid takes this into consideration when creating your report so you don't have to worry about such issues that can affect your performance anymore.
The only thing is to be
mindful of your previously published content
and go over their target keyword to make sure there are
no crossovers
.
If you come across such pages you have two options:
Update the page and target that specific search term with that content
Delete it and make room for fresh stuff.
That's it, your topics are ready!
Audit Your Content to Find Top Performing Pages
If your blog is performing quite well and bringing in a decent amount of traffic we can
go over the best performing pages
with an online tool first.
So let's head over to Ahrefs and see how everything is looking.
If you don't use Ahrefs or other paid tools don't worry you can do the same with Google Search Console.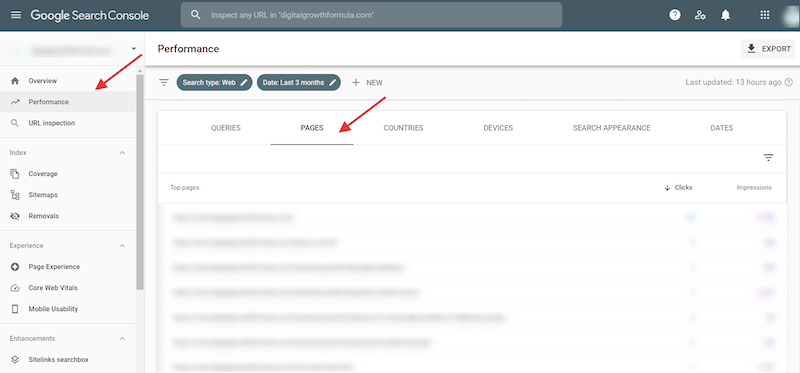 GSC Top Pages
Now go to the "Top pages" in Ahrefs.
Ahrefs Top Pages
Look over the blog posts that are generating a good amount of traffic and rank well.
Now put all of these into a separate spreadsheet along with its target keyword, current position, traffic and any other data the tool is giving you.
Ahrefs Best Performing Pages Export Data
Make sure to check out the
"Top Content"
tab as well.
Ahrefs Top Content
It shows
how well your content performed on social media
and how many shares, mentions, tags it got, so it's something to consider as well.
This step is going to be very helpful when creating your topic clusters because it's going to give you a clear idea of
what resonates with your audience
and what they want to see more of.
Plus thanks to the authority of those top-performing pages your
clusters are going to be strong
too, as you already know the
authority flows throughout the cluster
no matter if a said page is the hub page or a supporting one.
Although I admit this might be a bit misleading when it comes to the content you've created recently.
It might have a huge potential to perform over some period of time, so please be mindful of that.
I'd suggest you take a look at your Google Analytics for some accurate data as well.
GA is a goldmine when it comes to figuring out which content performs best in terms of traffic, engagement, conversions.
Assess the Data
Now that we have your top pages sorted out let's take a closer look.
Yes, one by one.
Let's go over each one and give it a proper read.
Is it covering the topic in-depth?
Is it relevant enough?
Is it engaging enough?
Is it catering to your target audience at each stage of the funnel?
Is it well optimized?
Keep in mind that you are looking at this from the user's perspective.
What do they see?
Do you like what you see?
You can always skip this step and base your decision on the data we've already collected.
But I'd recommend going over each piece (if you don't have hundreds of articles to go over) to understand how everything is looking.
Keep
If your content performs well, generates a good amount of traffic, reads well and is up-to-date then there is no need to update it.
Maybe the internal links, but that's about it.
Update
If any of those pages date back a few years, you need to update them right now.
Seriously, right now.
And I don't mean just change the date and call it a day.
No, go over the content and make it 2021 appropriate.
Bin
And here comes the hard question:
To bin, or not to bin?
I know how difficult it might seem to delete a piece of content that you've worked hard to produce, but all good things come to an end.
If some of the pieces are simply too off-topic, irrelevant, outdated or will take too many resources to update then you
better say goodbye
.
Don't worry there is plenty of content to be made still.
It's time to fill in the gaps.
Fitting into Silos
Once you have your audit spreadsheet ready to go let's get to building up our silos.
During the audit, we've already divided everything by core topics which means now you need to
dive into each topic
one by one because they are going to be your individual topic clusters.
Create A Pillar Page
The first step is obviously the pillar page.
If you already have a content piece that covers a topic in-depth such as an eBook, whitepaper, or strategy guide, let's
use it to create a pillar page
.
The idea here is to rewrite or repurpose this content piece so that it comprehensively covers the topic at hand.
So you are looking at a very high search volume head term that covers a broad topic and smaller subtopics that target lower search volume, more targeted keywords.
I realize you might have some questions regarding pillar content creation, I'll make sure to cover that in a future post, so stay tuned!
Create Supporting Pages
Understandably your core topic should be
augmented with multiple supporting pages
that will piece it all together.
Chances are if you have one content piece written on a particular subject you have a few related ones lying around in your blog that can come in handy right about now.
So let's go back to the spreadsheet and find
relevant shorter articles
that fit in nicely with your pillar page.
Generally, I'd say you need to cover each H2 sometimes H3 in a separate article from your hub page.
This is a vague definition but it gives a pretty good idea of what to look for.
The roles can be reversed though.
You might find yourself with a lot of smaller articles around a certain topic with no content that can potentially be turned into a pillar page.
But that's ok.
You can review all of the supporting content pieces first and structure your central hub page based on those articles.
Now that you have the supporting pages sorted out as well it's time to
identify the missing pieces
that need to be filled with
fresh content
.
But do not hurry to create new pages right away. Your existing content has a lot more potential than you realize.
Try looking at some of your posts from a different perspective:
What if you changed the format of the post? I'm thinking an infographic sounds wonderful.
Or made updates to a few paragraphs that haven't aged well?
What if you wrote a new article by
combining a few related posts
? Or by
breaking down a list post
and covering each point in more detail?
The possibilities are truly endless when it comes to repurposing and reusing your content so make sure to go through every piece and estimate its potential.
Fresh doesn't always equal good.
You might have some gems hidden in there that can attract a whole new audience you didn't think about.
Never say never, I guess.
Analyze Your Content
All of this talk about creating epic content but what is it worth if you are not measuring how it is performing?
Time to analyze and measure the effectiveness of each piece of content you are putting out there.
This will not only show you how well your content is performing but will also uncover possible areas of improvement for the ultimate results.
This is arguably one of the most important steps when it comes to content creation as you saw in the beginning.
You miss it once and there is no catching up.
In order to find out how your content is performing in the search and with your users, you need to set some data metrics to track regularly.
Depending on your content marketing goals these KPIs might vary but in general, here are a few to look out for:
Pageviews: the number of users who viewed your content
Bounce Rate: the number of people that clicked right off after opening your page
Keyword Ranking: the number of keywords each piece of content is ranking for in the SERPs and their respective positions
Organic Inbound Links: the number of backlinks your content gets from authority websites
Conversion Rate: the number of people that engage with a CTA in your content
Engagement Rate: the number of people that interact with your content through comments, social shares, likes, etc.
Keep in mind these are just some general metrics that you can keep track of but it really depends on your content marketing goals.
I'd suggest using a tool like Ahrefs or Agency Analytics where you can keep track of specific keywords and their ranking changes as well as traffic percentage and all that good stuff.
It's a Wrap!
Hope you enjoyed part 2 of our content creation guide.
It might be intimidating at first but once you get started it's quite pleasant actually.
Admittedly creating content and reviewing years of work is a time-consuming process but so worth it in the end.
However, you have all of your manual labor cut out for your thanks to Keyword Cupid and its amazing clustering magic.
If you haven't already, give the tool a try and let us know how you are liking the reports.
Jump on a
7-day trial
.
Don't forget to let us know in the comments below how your efforts are paying off.
Till next time!